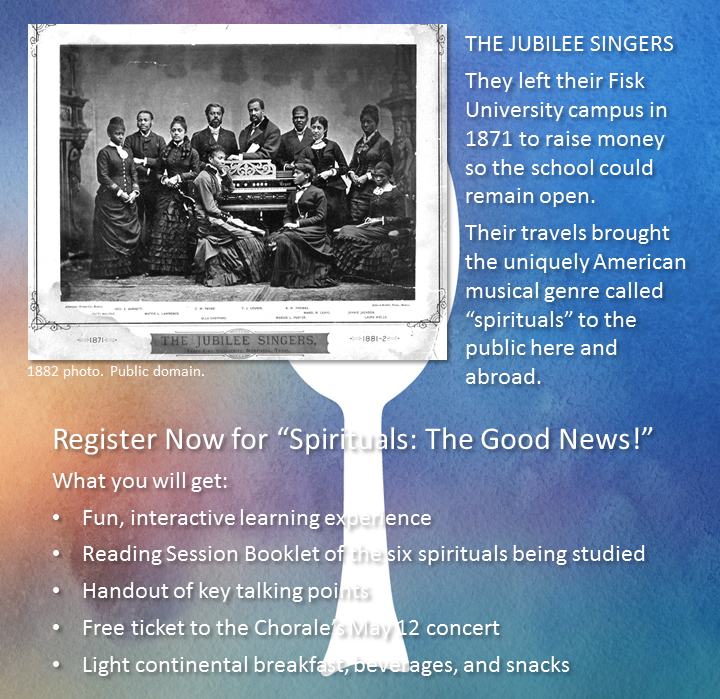 "Spirituals: The Good News!" with Dr. Gilbert O. Jackson and 25 members of the Gilbert Jackson Chorale.
April 28, 2018
8:30 AM – 12:30 PM
Cost: Early Bird until April 14: $55 (suggested)
ADDITIONAL EVENT DETAILS

Cost:
Early Bird until April 14: By donation (suggested $55)
April 15 – April 27: Adult $69, Student $29
At the door: $75
Refunds: Full until April 28.
By the end of this half-day workshop, you will be able to:
Have choral groups that can perform spirituals that are stylistically correct.
Develop a plan to include spirituals in your repertoire.
Learn the development of the spiritual style through active participation (i.e., singing), analyzing live performances by the Gilbert Jackson Chorale, and critiquing recorded performances.
Get into the mind of Dr. Jackson as he describes the foundations, dialect, imagery, style and tone — and how to get your choral groups to express the soul of the spiritual's message.
Serious singers — adults and students — are also invited to this music education event.
You will receive a book of the six spirituals that will be presented and discussed, along with a handout of Dr. Jackson's talking points and note-taking space. In addition, you will receive a free ticket for you to attend the Chorale's spring concert: Saturday, May 12, at St. Paul's United Methodist Church, Rochester!
The finale is a mass choir — you and the Chorale — performing "Ride On, King Jesus" . . . stylistically correct! (Music will be provided.)
The proceeds from this workshop will used to support our "Student Intern'"program. This program allows high school and college student to sing with the Chorale at no cost to them, with select interns qualifying for financial support for voice lessons.
COME & SEE A CONCERT
Come and listen to the Gilbert Jackson Chorale perform. Concerts are held twice a year. Find out more about our upcoming performances.